The 2017 Event Technology Landscape Has Arrived
---
Discover the latest and best in event technology for your 2017 events and brand experiences. Supergraphic brought to you each year, by Cramer.

Cramer's highly anticipated annual event technology landscape has just been released, updated for 2017, and ready to be your guide in finding all of the hardware, software and vendors you'll need to succeed at your next event.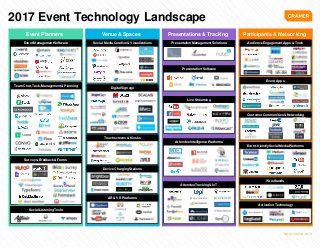 2017 Event Technology Landscape from Cramer

The SlideShare above is free for you to use, explore, share, and cherish. But, to get the most out of the 2017 Event Technology Landscape, download the hi-res PDF and JPG versions. Also included in the download is a bonus Excel spreadsheet completely categorized with each vendor and their associated websites.

Download the 2017 Event Technology Landscape Graphic PDF and Excel Files

This year, the landscape is organized into four broad categories to help you quickly find the right tech for your event or experience:

1. Event Planners
2. Venue & Spaces
3. Presentations & Tracking
4. Participants & Networking

The Top Trends for 2017

1. Attendee Tracking & IoT Becomes #1 Focus
Today's events create a lot of valuable data. And the companies who measure, track and report on it are an event planner's best friend. They allow you to understand what works and what the people want. Attendee Tracking is being spurred on by advances in IoT, making tracking tech smaller and more affordable – and Attendee Intelligence Platforms are gearing up to deliver all of those juicy insights in an easy to browse dashboard.

2. Wearables Facilitate Tracking and Networking
Following the IoT trend, RFID badges are being replaced with NFC and BLE devices capable of more intelligent communication. In 2017 we foresee an explosion in wearable tracking and networking tech – (both badges and wristbands) which will reach a price point that is worth exploring.

3. Event Management Players Aiming to be One Stop Shops
With big acquisitions of big companies like Lanyard and Cvent we have noticed the trend of event management companies organizing their products and services horizontally over the life cycle of an event. When they don't own a capability, they build or acquire it.

Examples of this are seen in Cvent's acquisition of Crowdcompass (event apps) and AllianceTech (attendee tracking). While this may be convenient for event planners, best of breed companies still dominate their categories in terms of features and flexibility.

4. Live Streaming is Not Just Expected, But Required
If you haven't jumped into the wide world of livestreaming yet, this is the year to do it. Livestreaming is easier than ever – and people are watching streams constantly on platforms like Facebook Live, YouTube Live, and now Twitter, with its seamless integration of Periscope. The rule is: If it's live – it's most relevant. In social media algorithm terms, that means you go right to the top of the notification feed for your followers. Stay relevant, and go live!

Looking for event planning advice in the New Year?

Cramer is an experiential marketing agency with hands on experience working with the vendors on this event technology landscape. Let's talk about your next event, and what event technologies you need to use in 2017.

Download the 2017 Event Technology Landscape and contact us today.